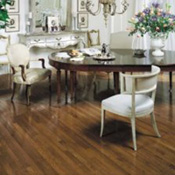 DIRECT Wholesale Pricing
Call Now!! 407-925-0917
For over 100 years, Bruce has captured the natural beauty of wood and skillfully crafted it into floors of quality, elegance and durability. The beauty of Bruce hardwood floors is protected by a variety of high-performance finishes. The Bruce line features over 200 different styles, colors, and patterns. From understated economy to elegant extravagance, Bruce has a style to fit any lifestyle at a price to accommodate any budget. Product classifications of "Superior" – "Best" – "Better" – "Good" are used to define the features and benefits of Bruce products.


Although we offer only a selection of Bruce products on our web site, the entire Bruce product line is available by calling: