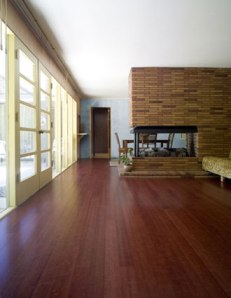 Call for Direct
Wholesale Pricing

>Bamboo is a member of the grass family . However, as a hardwood floor, it is surpisingly harder than red oak. It is harvested with no harm to their natural habitat, and produces materials that promote a healthy human environment. For convenience and durability, Natural Cork's Bamboo flooring is pre-finished with an unsurpassed aluminum oxide finish containing 6 coats applied to the flooring surface offering superior wear resistance. These floors come in both solid and engineered construction in the traditional natural and carbonized finishes. Natural Cork took it a step furthering by introducing stained bamboo as well as handscraped. With its superior quality, unique look and environmental consciousness, these bamboo floors are the smart choice for any home.


Hand Scraped Bamboo
Natural Cork's handscraped bamboo hardwood flooring is now available in both solid and engineered construction. At last you can have beautiful bamboo floors anywhere in your home! Available in an array of stunning colors, these unique floors have micro beveled edges & ends, 6 coats of aluminum oxide finish and include a 25-Year Limited Residential Warranty.


Stained Bamboo
The demand for Bamboo has been increasing for many years because of its unique beauty, elegance hard wearing capabilities and ecological considerations. Bamboo is now one of the preferred materials for interior designers. Unique grains provide looks that can't be found with other flooring products. Natural Cork now carries the beautifully stained bamboo in both solid and engineered so you can enjoy these floors in any room of your home.


Strand Woven Engineered Bamboo
Natural Cork's bamboo trend continues with the introduction of Strand Woven Bamboo engineered flooring. Strand bamboo is the hardest bamboo on the market today due to its unique manufacturing process. By  heating long strips of bamboo, weaving them together, then laminating them under extreme pressure, a floor is produced that is harder and more dense than traditional bamboo  flooring, which is already one of the hardest wood flooring products available.  Got kids and pets? No problem! This floor can be  sanded down and refinished just like any other wood flooring product. These bamboo floors can be glued, stapled, or floated over subfloors that are on, above, or below grade.


Traditional Bamboo
Bamboo flooring combines elegance, versatility, form and function, making this natural product an ideal flooring solution for you. Bamboo is environmentally sound. Renewable, recyclable and biodegradable, Bamboo flooring is recognized as a true gem in modern sustainable architecture. Its durability is also unsurpassed. Harder than red oak, bamboo floors are also exceptionally stable. Natural Cork has the traditional bamboo available in solid and engineered so now you can install these beautiful anywhere in your home!
Although we offer only a selection of Natural Bamboo products on our web site, the entire Natural Bamboo product line is available by calling:

Hardwood Direct's Customer Service Line at 407-925-0917.